Synergy Spray high-quality paddle wheel aerators features high-efficiency motors and high-quality gear reducers to ensure a long service life. The frame, drive shaft and hardware are made of 304 stainless steel material which is resistant to salt and saline water. Paddle wheel aerators are an excellent choice for medium and large ponds where movement of oxygenated water through out the pond is required.
Synergy Spray Systems  is  one  of  the  upcoming manufacturers  and  suppliers  of  advanced  Aqua  Culture  Equipment  in  India.  Our  Wide  range  of  products  comprises  of  all  kinds  of  Paddle  Wheel  Aerators  and  its  Spares.
QUALITY PRODUCT

INDUSTRY LEADING QUALITY

VALUE FOR MONEY

APPROPRIATE MATERIALS USED
OPTIMUM POWER CONSUMPTION

EXCELLENT DURABILITY AND RELIABILITY

MINIMUM MAINTENANCE

LONG FUNCTIONAL LIFE
We are committed to working with prospective and existing clients to ensure that their aquaculture project visions are fulfilled.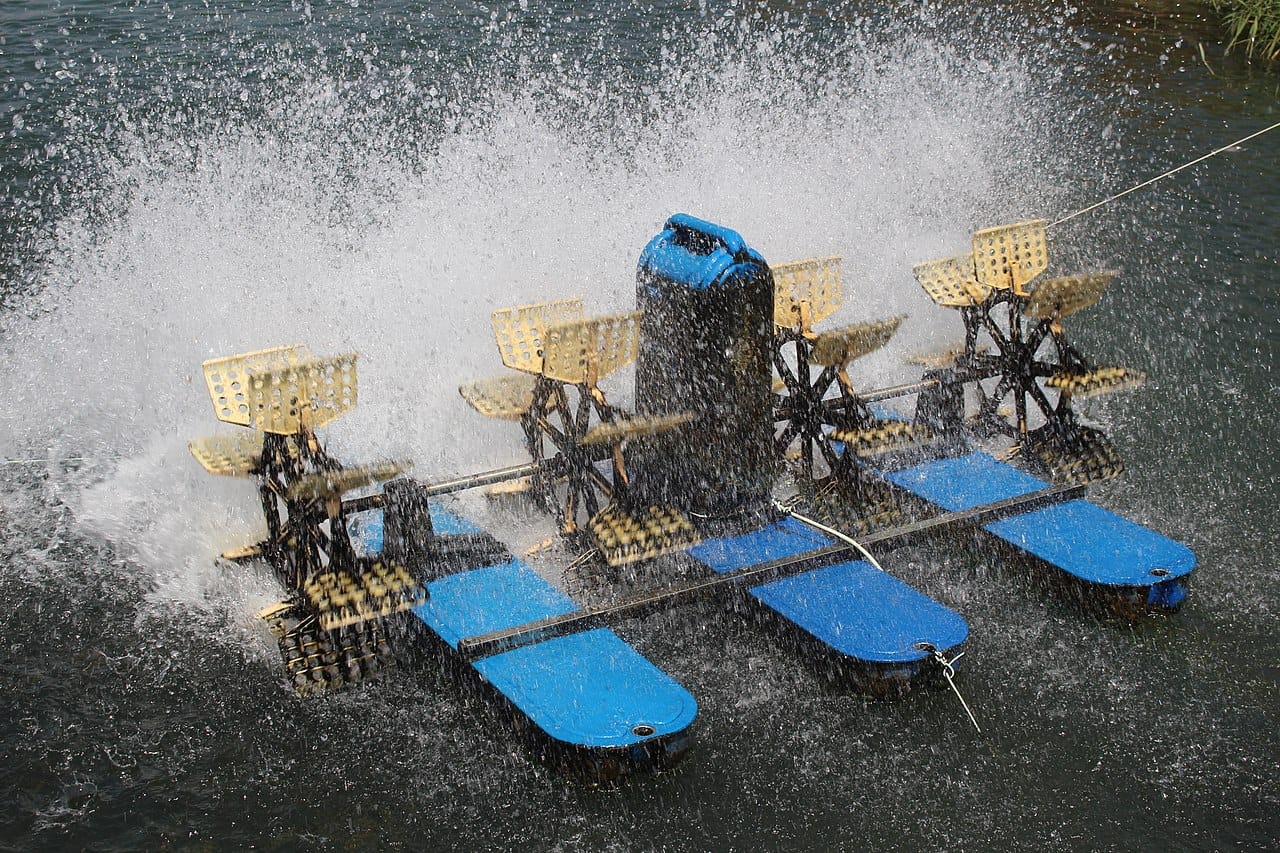 Paddle Wheel Aerator
SYNERGY SPRAY SYSTEMS, manufacturers and suppliers  of  advanced  Aqua  Culture  Equipment  in  India.  Our  Wide  range  of  products  comprises  of  all  kinds  of  Paddle  Wheel  Aerators  and  its  Spares.
What is Paddle wheel aerator ?
A paddle wheel is a form  of waterwheel or impeller in which a number of paddles are set around the periphery of the wheel. It has several uses, some of which are:
Very low-lift water pumping, such as flooding paddy fields at no more than about 0.5 m (20 in) height above the water source
To move and mix algae culture in the raceway ponds used for algaculture.
Propulsion of watercraft
Low head hydro power
Flow sensors
Aerators
Advantage of Paddle wheel aerators:
Cir­cu­lates oxy­gen rich sur­face water by destrat­i­fy­ing pond water col­umn. This ensures uni­form pond tem­per­a­ture and oxy­gen lev­els through­out the pond
Water lubri­cated bear­ing requires no addi­tional lubri­ca­tion or maintenance
One mov­ing part; only 10 parts in total
No gear­box; thus no lubri­ca­tion or fre­quent fail­ures
Light­weight; can be moved from pond to pond by only one person
Aer­a­tion is done below sur­face; does not cause changes in tem­per­a­ture or salinity
High tech com­po­si­tion mate­ri­als with cor­ro­sion free ele­ments. Mate­ri­als for Series 

II

 aer­a­tor used in aero­space and auto­mo­tive industry
Able to adjust angle for shal­low or deep ponds
Viewed by indus­try as a farm investment
Oper­ates consistently with fluc­tu­at­ing water levels
Pre­ci­sion engi­neered to stay afloat in all weather conditions
Strong cus­tomer ser­vice and field ser­vice departments
Paddle wheel aerator for Auqa culture Fish farm to increase oxygen levels. We manufacture and supply through out Andhra Pradesh Telangana areas like Nellore Guntur vijayawada Vizag hyderabad. long arm paddle wheel aerator.
Paddle wheel aerator, 2hp 4 paddle wheel aerator price, 2hp 4 paddle wheel aerator, paddle wheel aerator price, paddle wheel aerator manufacturer, supplier india, long arm paddle wheel aerator.